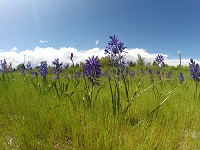 Weeding Party at the John Crock Native Polinator Garden along the Latah Trail

When: Sunday, October 2, from 1:00 till 3:00 or later (come and go as you want)

Where: The Crock site is along the Latah Trail, paralleling the Troy highway, between Carmichael Rd and Lenville Rd. Head east on hwy 8 just past Moscow city limits, turn right on Carmichael Road and park at the lot for the park, then walk a short distance east on the trail to our site.

According to the weather forecast, Sunday will be a nice, warm and sunny day. After the rain predicted for Thursday/Friday, the soil should be soft enough to tackle some of the weeds at the Crock Garden. We can use all the help we can get. There is salsify and Canada thistle to pull as well as curly dock, mullein, and teasel to dig up.

What to bring: Gloves (leather or rubberized), digging utensils (soil knife, dandelion digger, or narrow spade), a kneeling pad if you have one, a hat, sun protection, and a water bottle. We will provide bags for weed disposal and snacks.

Contact: Please contact us with any questions and to let us know how many people to expect.

Your help is much appreciated and will give the native Palouse Prairie plants a better chance to become established.